CURRENT UPDATE: PLEASE SEE THE "WRITE LETTERS" TAB AND THE "DONATE" TAB TO SUPPORT RATTLER DURING HIS ONGOING FORCED PLACEMENT AT A FEDERAL BUREAU OF PRISON HALFWAY HOUSE IN HOSTILE ND AWAY FROM FAMILY. RATTLER CONTRACTED COVID ALONG WITH OTHER INMATES DECEMBER 2020 DURING HIS INCARCERATION AT SANDSTONE FEDERAL PRISON. COMPASSIONATE RELEASE TO HIS FAMILY DUE TO COVID AND PRE-EXISTING CONDITIONS HAS BEEN FILED BUT WAS DENIED.
Oglala Lakota tribal member Michael Markus (Rattler) was charged alongside 5 indigenous water protectors...
...that aided others in the resistance camps engaging in nonviolent direct action to stop the desecration and construction of the Dakota Access Pipeline (DAPL) near the Standing Rock reservation in the years 2016-2017.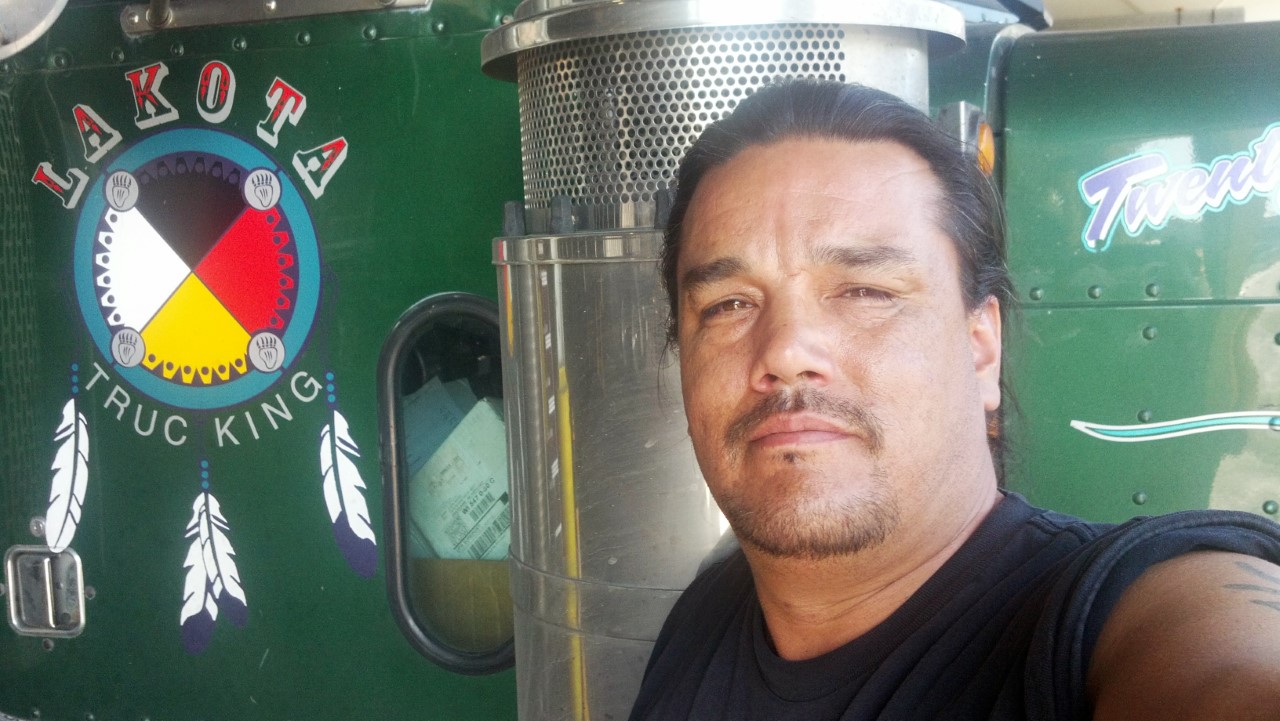 He's currently incarcerated at FCI Sandstone (federal prison), serving a three year sentence from a non-cooperating plea for Civil Disorder, a charge that has mainly been given to those engaging in resistance movements (American Indian Movement, Black Liberation Movement, Anti-Vietnam War protestors, NoDAPL Water Protectors, etc.)
Rattler served as Akicita, a continuation of a traditional role among the Lakota that protect the peace and hold their own people accountable of their responsibilities for the collective. He gave necessary knowledge of militarized police tactics, scouting of DAPL, aided de-escalation during nonviolent direct actions, and helped those within camp to be safe and sober.
He's a Marine veteran. His Lakota name is Mato Tanka (Big Bear). He pledged five years ago to dance the sacred Sundance and carry a sacred pipe (Canupa) for all life that coexist together. His own statement can be read below:
"Being a Sundancer, my understanding is you're giving of yourself to the People; you sacrifice yourself for the welfare of the People. [Being Akicita in camp] was the best sacrifice I've had so far.
I consider it an honor because my Great Great Great Great Grandfather is Chief Red Cloud [Mahpiya Luta] of the Oglala Lakota People. Once you're Akicita, you're Akicita for life...
I hope I honor my ancestors by doing this, and carrying on this tradition [of Akicita].
...The [Bismarck] Unitarian Universalists and all of the federal co-defendant's family are actually working with [us] the federal co-defendants, so false sites [info and resources] don't get put up...to make sure support goes directly to the federal co-defendants.
When I get out, quite honestly if the fight isn't over, I'm gonna jump right back in it because it's the right thing to do and it's where I belong. So when I get out, I've got your back...The best thing I can say to you is even with these federal charges, I'm not afraid to go back out there because you gotta look in yourself and think what is it going to do not for just you but for future generations...What are you going to leave them? Are you going to leave them a legacy that they'll be proud of? What kind of world do you want your grandchildren to live in?
Oceti is gone but Standing Rock is still here with all the federal co-defendants. I'd like to say again thank you to everybody who helped us out and for your continued support you give us; be it letters, five bucks, whatever, we appreciate everything you all are doing. Again thank you, and I love you all.
I don't want credit for anything...you know, I'm just a flea like everybody else, and us fleas gotta stick together to make the big dog ITCH."
September 27, 2018, the day he was sentenced to three years imprisonment: "They may lock me up, but thousands will take my place."
https://www.freerattlernodapl.com/
https://www.facebook.com/freerattler
PLEASE SEE RATTLER'S WEBSITE AND FACEBOOK PAGE FOR UPDATES ON HIS FAMILY'S AND LEGAL TEAM'S RESPONSE REGARDING COVID-19 WITHIN PRISON.
AS OF JUNE 2020, A NATIONWIDE LOCKDOWN OF ALL FEDERAL PRISONS WAS IMPLEMENTED BY THE BUREAU OF PRISON AS RETALIATION FOR HISTORICAL PROTESTS ON THE STREETS IN RESISTANCE TO THE USA'S VIOLENT POLICE STATE.
MESSAGE FROM RATTLER SEPTEMBER 12, 2020:
"The BOP is opening up visits on October 3rd. And I urge people not to come. I know that you want to see your loved ones in here, or in any prison. But for their safety and yours I beg you not to come. We have more corona cases every week and we all know that the BOP don't give a fuck about us. But I know that you all care for your loved ones in federal prisons. So unless its a video call that you can do from home DO NOT come to the federal prisons to visit. Again this is for your safety and ours."
CLICK PHOTOS FOR DESCRIPTION